ACME Detective Agency 
is a group which are full of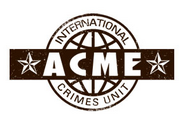 good spies or Agents. The group is lead by 
The Chief
. They work in order to save people and not to be any stealing throughout the world. Their target is to defeat V.I.L.E and 
Carmen Sandiego
.
Agent (Only in Wii Game & You)
Carmen Sandiego/Left and became in V.I.L.E
Lawrence Benjamin (African-American ACME Agent)
Cal Cranna
Isabella Sutton (French ACME Agent)
Rob MacCaibe (Scottish ACME Agent)
Joann Stockdill (Australian ACME Agent)
Raj Mahal (Indian ACME Agent)
Lenora Butler
Undewear
ACME detectives
Edit
Ad blocker interference detected!
Wikia is a free-to-use site that makes money from advertising. We have a modified experience for viewers using ad blockers

Wikia is not accessible if you've made further modifications. Remove the custom ad blocker rule(s) and the page will load as expected.