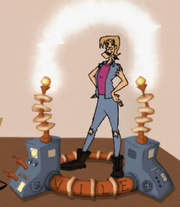 Dee Cryption
is a hacker with a microchip on her shoulder, and ever since she caught a nasty computer virus, she has been pursuing a program to take over the world's computer networks. However, Dee Cryption's fuzzy logic hasn't helped her reach her goal. 
"You ACME airheads will never put the byte on me! Ha ha!"
"Yeah, yeah. You may have crashed my code, but you won't get Carmen."
Ad blocker interference detected!
Wikia is a free-to-use site that makes money from advertising. We have a modified experience for viewers using ad blockers

Wikia is not accessible if you've made further modifications. Remove the custom ad blocker rule(s) and the page will load as expected.