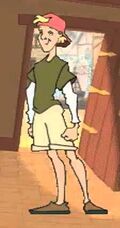 Ivan Idea is an ACME Good Guide and inventor. His name is a pun on "I've an idea!" He is a teenager with blond hair who wears a backward baseball cap. In early games, he is depicted as a boy in a blue jumpsuit and a jetpack, along with many different inventions. Later versions show him in an olive t-shirt over a long-sleeved white short, medium-length shorts, and sneakers.
Despite his age, Ivan is an highly intelligent inventor and his inventions include the ACME Babel Translator and the Chronoskimmer. When he accompanies the player on missions, he apprehends VILE henchmen with his many inventions.
Appearances
Edit
Where in the World is Carmen Sandiego?
Where in the USA is Carmen Sandiego?
Where in Time in Carmen Sandiego?
Carmen Sandiego and the Great Chase Through Time
Carmen Sandiego: Word Detective
References
Edit
Ad blocker interference detected!
Wikia is a free-to-use site that makes money from advertising. We have a modified experience for viewers using ad blockers

Wikia is not accessible if you've made further modifications. Remove the custom ad blocker rule(s) and the page will load as expected.